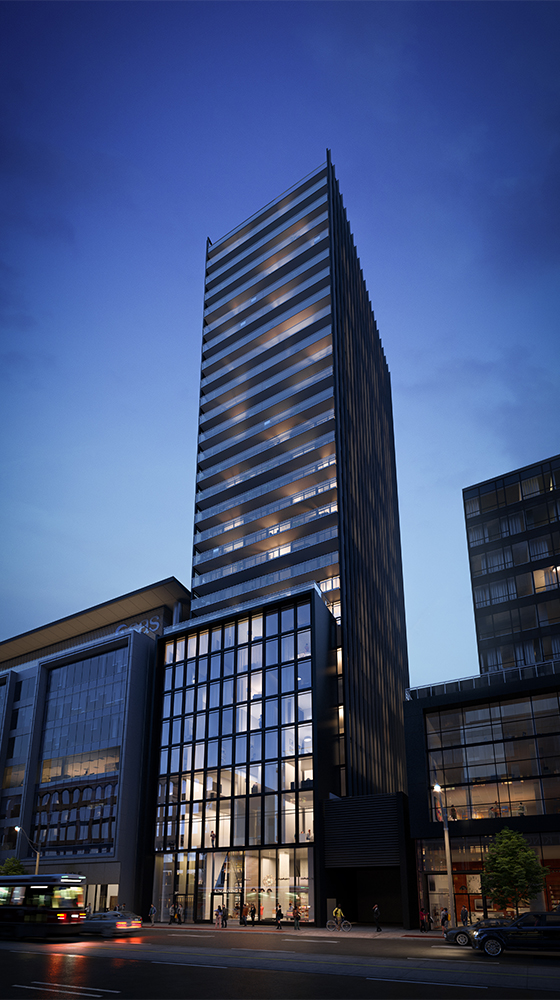 08.16.2021
I Invested in Toronto's Bauhaus Condos… And here's why you should consider it too.
Buying
As a downtown REALTOR®, not only am I on the prowl for Toronto's best real estate opportunities for my clients, but also for my personal investment portfolio. When a good building presents itself, I know it. And then it's my job to save you the time and the search by passing along my due diligence so you can make an intelligent and informed investment decision.
My latest investment was for a unit in Bauhaus Condos slated for the King and Parliament area of Toronto.
The building
Bauhaus Condos is a proposed 32-storey condo tower at 284 King Street East in the city's core. Replacing an existing 3-storey building, the new tower will be mixed use, with 30 floors of residences starting from the low $700,000s and the ground floor reserved for retail.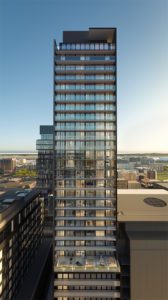 Who's behind it – and why that matters so much
One of the most important factors in a pre-construction investment purchase is the builder. Who is the builder of the condo and what is their reputation? In the case of Bauhaus Condos, the builder is Lamb Development Corp., led by Brad J. Lamb, and his reputation precedes him. Mr. Lamb is one of Toronto's most prominent real estate developers known for distinctive design, quality construction, trustworthiness and the completion of all projects to plan.
Most importantly, to date, the majority Lamb Development condos sell above historical average market value. In other words, you're investing in a builder with a strong track record of developing condos that rise in value faster than their counterparts.
The unique factor
These days, condos are a dime a dozen – which is why I admire a developer who sets himself apart. Brad J. Lamb and Lamb Development commit to a high standard defined by "great architecture, clever modern interior design, and exceptional finishes". Along with this commitment come a long list of features that are anything but common in your typical condo:
9' ceilings or higher
Loft-style exposed concrete
Engineered hardwood floors
Extra-thick stone countertops
Spa-like bathroom finishes
Electric cooktops or high-end gas stoves
6' deep balconies (at least) for optimal outdoor enjoyment atop the city
BBQ hook ups on all balconies & terraces
The King Parliament Revitalization
What makes this condo investment even more lucrative is where it's situated. Right in St. Lawrence neighbourhood, the Bauhaus tower will sit in the midst of one of the city's latest revitalization plans at King and Parliament. The new, eye-catching Globe and Mail Centre already redefines the King East skyline and there's more to come. A proposal for two connected mixed-use towers by Greenpark Homes has already been submitted to replace the large Staples currently bordering King Street East, Berkeley Street and Front Street East. And St. Lawrence neighbourhood isn't only attracting new high-rise condos, but also up-and-coming restaurants and lounges, as well as big-name enterprises including KPMG and the Globe and Mail.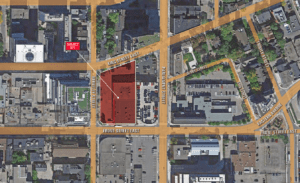 When you invest in a condo that resides in an area poised for exciting revivals and future growth, the better your chances of owning an asset that rises in value significantly over time.
Easy and accessible deposit structure
As investors, we're looking for good deals, and when it comes to pre-construction, part of that means a reasonable deposit structure. Bauhaus Condos just so happens to have one of the most attractive I've seen in a while:
15% down over 540 days
$10,000 upon signing of the Purchase and Sale Agreement
Remaining balance to reach 5% in 30 days
5% in 270 days
5% in 540 days
A key selling feature on occupation
Not every builder lets you lease your unit during the occupancy phase. This one does. Not only that, but Lamb Development is offering a 2-year rental guarantee to all buyers, with positive cash flow and a calculated average return for rental income of 8.5% in year one! The key benefit of this offer is that if the rental market is poor when you take possession, you're guaranteed a tenant or the developer is on the hook to pay you out of pocket. On the other hand, if the rental market is stronger than what this offer dictates, you're free to find a tenant of your own at a higher market rent.
Bank on a 4 to 6-year hold
This is an investment where I would advise you to walk in with the expectation of a hold for anywhere from 4 to 6 years minimum. Allot 4 years for the condo to be built and 2 years for you to take advantage of the rental guarantee. After that, assess the structure, the value and the market so you can make the most suitable decision for you and your investment goals.
What's the catch?
There always is one…
In this case, however, it's minor – and that is the cost. It isn't cheap. Having said that, it isn't exorbitantly expensive, either. The vast majority of pre construction condo projects are currently being sold for $1,300+ per square foot, and these days, you'd be hard pressed to find a decent development selling for under $1,300 per square foot. Bauhaus Condos' units are starting around the $1,350 / sqft mark. The price is slightly higher, but in my opinion, this is offset by quality, uniqueness, location, the deposit structure and the rental guarantee.
What's your take?
Want to discuss it together?
Give me a call or send me a text 416-476-8294.