One of Toronto's most prestigious districts
Walking through the beautiful properties and greenery, there is no mistake that Forest Hill is an affluent wealthy neighbourhood. Previously known as "Spadina Heights", it was named after the residence of John Wickson, built in 1860, and now has since been replaced by apartment buildings. The neighbourhood is divided into Forest Hill North and South. The area is protected by the old 1920s building code and by-laws, keeping its charm and history. Along these streets, you will find some of Toronto's nicest homes, best schools and wealthiest residents.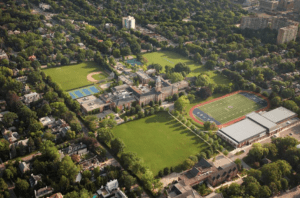 The Properties
Forest Hill is a quiet residential neighbourhood filled mostly with large detached houses and mansions. There are areas of new builds that include luxury townhomes, low-rise condominiums. Rental apartments are higher than average expensive, although along the borders of the neighbourhood, prices are slightly lower.
The Neighbours
Forest Hill is a neighbourhood of mixed ages and stages. There are lots of couples, both with and without children, as well as retirees whose children have left home. Majority of the residents are of Jewish background and is evident with the presence and facilities in the area.
Schools
Transportation
Safety
Entertainment
Schools
The schools in the area include some of the most prestigious in the city.
---
Transportation
Forest Hill is located within walking distance of numerous bus routes that connect to Toronto's transit subway lines, including the 24-hour Bathurst route. The Allen Expressway is a short drive west along Eglinton Ave.
The closest subway stations include:
---
Safety
The area is close to several safety services, so emergency help is never too far away. 
The nearest safety facilities include:
Humber River Hospital
Toronto Police Division 13
Toronto Police Division 53
Toronto Fire Station 132
Toronto Fire Station 135
Forest Hill Animal Clinic
---
Entertainment
Forest Hill is filled with lovely parks for anyone to enjoy any recreational activities. There is access to Beltline trail, which is a 9km route for hikers, cyclists and runners. You will also find Cedarvale Ravine running through the neighbourhood.
Forest Hill's Public Library has a variety of programs for adults and children. Residents can enjoy ice skating at the Forest Hill Arena, and other sports facilities such as baseball, soccer are available at the parks in the area.
Dining
As the area is predominantly residential, there is a small selection of restaurants to choose from, however, are still favoured by the locals. Marron Bistro offers French fare in an elegant setting. Bistro Grande is another restaurant with elegant space that serves Kosher menu. Bi Bim Bap for Korean dishes, specializing in stone bowls. 3SK Cafe for artisanal coffee and baked goods.
Shopping
There is a shopping hub of Forest Hill Village with a small town feel filled with high-end boutiques that cater to the affluent residents of the area. The Eglinton West Village shopping district has a large variety of stores to suit every taste and budget. This street also contains many fine restaurants and food stores.
---