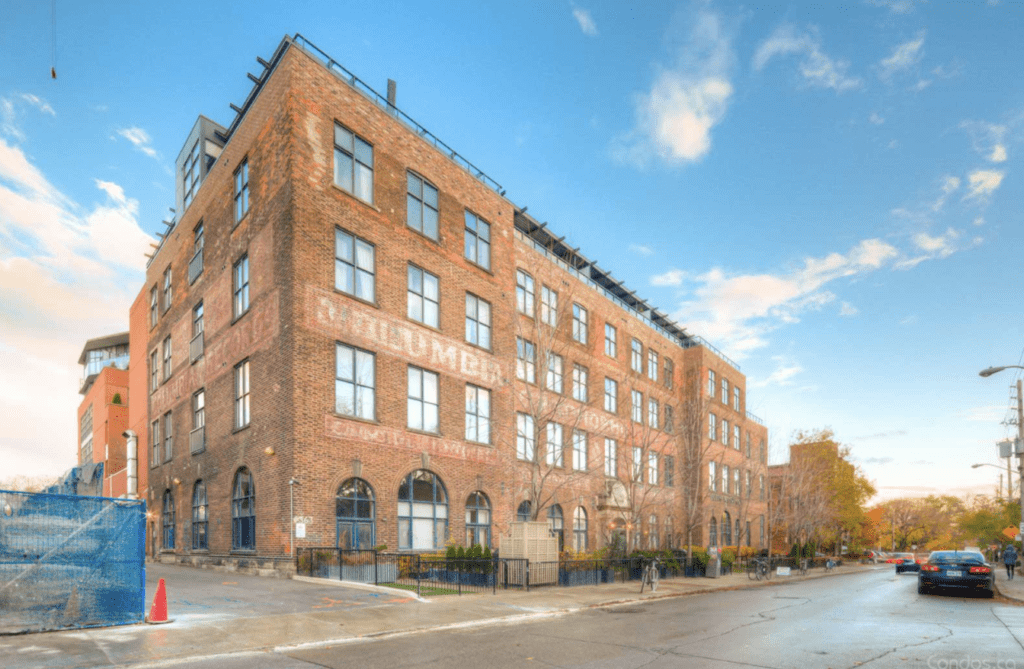 09.15.2021
5 Things You Need to Know About Buying a Condo in Liberty Village
Buying
Liberty Village is one of Toronto's most vibrant, visually appealing neighbourhoods. It's the personification of "Toronto Cool" and home to many of Toronto's hip young professionals. It perfectly combines an industrial aesthetic with modernity. 
As a result, Liberty Village condos are some of the most covetable in the city. Tall buildings made of glass and concrete feature modern open-concept layouts, loft-style penthouses, incredible views, and easy access to some of the best downtown amenities. 
But wait, there's more! Here are 5 things you need to know about buying a condo in Liberty Village:
1) Easy Access to Other Neighbourhoods
Not only is Liberty Village easily accessible by major roadways like the Gardiner Expressway, but it's also close to other incredible Toronto neighbourhoods. For example, the King-Liberty Pedestrian/Cycle bridge is a brand-new addition to the area, connecting Liberty Village and King West. You can now walk between the neighbourhoods in less than 5 minutes. 
The bridge is located across the Metrolinx Kitchener and Milton rail corridor, spanning from Douro Street to Western Battery Road. 
---
Liberty Village and King West are connected by more than just a bridge. Learn more about these two exciting Toronto neighbourhoods here:
---
2) Live in a Repurposed Toy Factory
Toy Factory Lofts is one of the most desirable condo buildings in the neighbourhood. Located at the corner of Hanna Street and East Liberty Street, the building was originally constructed in the early 1900s as home to the Irwin Toy Factory. 
Today, Toy Factory Lofts is a landmark address combining authenticity and incredible amenities. 
Popular among young professionals, Toy Factory Lofts offer exceptionally high ceilings, quality fixtures, and spacious one or two-bedroom floor plans. With a mixture of hard lofts and soft lofts, this building has some of the most exciting and creative living spaces in the city, perfect for those looking to wake up and be inspired every morning. 
Toy Factory Lofts is also close to the famous Entertainment District. Want to learn more about this exciting Toronto neighbourhood? Read our guide on The Entertainment District here.
3) Looking for a Modern Loft? It's in Liberty Village
Although Liberty Village is famous for its authentic style and industrial vibe, there's still plenty of modern condos to be found in the neighbouhrood. 150 East Liberty is one example. These spacious 2-storey loft condos offer incredible views, exceptional spaciousness, and a light airy feeling that can only come with 18-foot floor-to-ceiling windows. 
These loft-style condos are popular among young professionals and in Liberty Village, buyers can enjoy the loft lifestyle while enjoying modern finishings, luxury amenities, and proximity to all the best downtown activities. 
4) Liberty Village is Pet Friendly
Looking for a pet-friendly neighbourhood? Liberty Village ranks pretty high up there when it comes to neighbourhoods that love dogs. You'll notice so many people walking their dogs, and there's even a massive purpose-built dog park right in the heart of the community. 
If you're worried about a condo building not allowing pets, that won't be a problem in Liberty Village. Pets are so popular here that all the buildings allow them. 
5) The Community is Generous and Active
Liberty Village residents are among the most active and charitable around. The community is involved in many philanthropic programs, outreaches, and volunteer organizations. Liberty Village Cares is just one example of the community coming together. Through Facebook, LV Cares encourages residents to share their adventures, post about exciting events in the community, and get out and make friends. They aim to make Liberty Village an exciting, vibrant place to live where residents and local businesses can thrive. 
Want to learn more about living in Liberty Village? Check out our Liberty Village neighbourhood guide here and make sure you sign up for our monthly market updates here for the latest news.