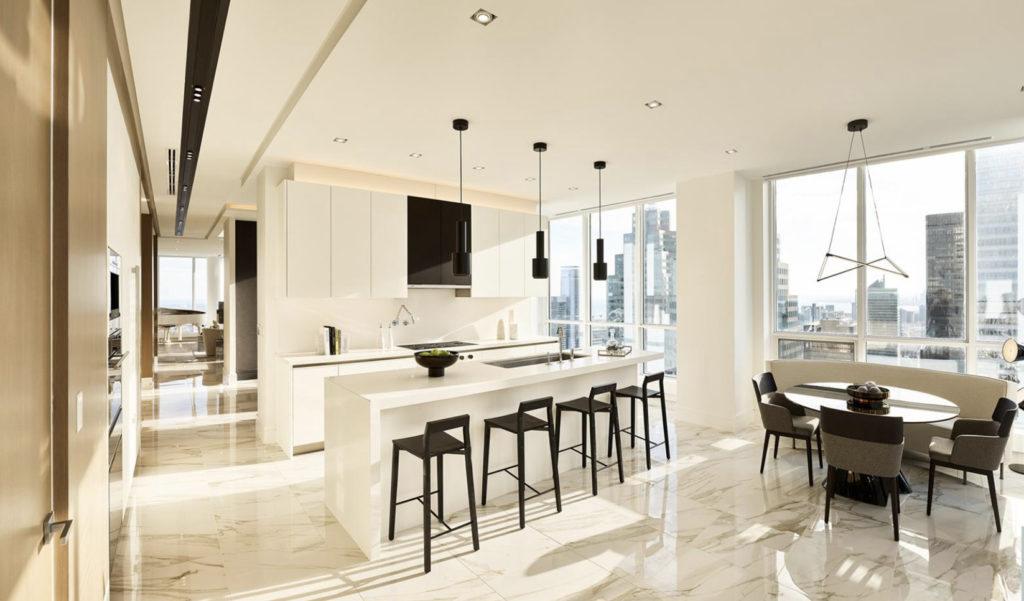 02.18.2021
88 Scott: What To Know About This Prestigious Development
Developments
Between the lively Financial District and vibrant St. Lawrence Market, you'll find a condo building unlike any other. The sleek development at 88 Scott soars above the downtown core at 58 stories. Elegant inside and out, this development is the epitome of luxury living—and it could be the next place you call home!
If you're thinking of buying a unit at 88 Scott, here's what you should know…
The Basics
From the outside, 88 Scott is set to inspire. Designed by Brian A. Sickle of Page + Steele/IBI Group Architects, this towering building will stand out along Toronto's skyline. Far from just another glass behemoth, it will be adorned with unexpected details—including grids of precast concrete. A five-storey podium will contain office and retail space, providing a vibrant mixed-use feel.
At the helm of this 497-suite building is Concert. This award-winning developer has been around since 1989. Thanks to its high standards for construction and customer service, the B.C. real estate enterprise's good reputation is well deserved.
Of course, there's another major reason to get excited about 88 Scott. Positioned at the corner of Scott and Wellington, this central gem couldn't have a better location. The area is home to Berczy Park (a charming local green space), along with the glorious St. Lawrence Market and an abundance of restaurants and shops.
The Building
There's no doubt that 88 Scott offers the very best in downtown living. This beautiful modern development is all about urban convenience and high-end luxury. That feeling comes through in both the architecture and amenities.
In addition to its sleek glass and majestic height, one of the development's best exterior features will be a nod to the structure that once stood in its place. In the 1950s, architect James Allen Parrott designed a building with patterned natural stone cladding. Concert has decided to preserve it—and reattach it to the tower's podium.
Along with its unique architecture and design, part of 88 Scott's appeal is its luxurious amenities. The building features a state-of-the-art fitness studio (which contains a juice bar), a sophisticated pool (with seamless edges), and an outdoor terrace (where you'll find a bbq, dining area, and greenery). There are also several lounges, including one on the 46th and 47th floor that offers incredible views.
The Units
While 88 Scott is home to a wide variety of gorgeous living spaces, its penthouses are in a league of their own. To start with, these two-storey homes feature floor-to-ceiling windows, making them ideal for basking in the sun during the day—and enjoying the city lights at night.
If you call one of these penthouses home, you'll enjoy starting each day in your spa-like ensuite. Think luxury fixtures and an unbeatable view from your bathtub. After that, you'll decide what to wear in your expansive, boutique-style dressing room.
When it's time to whip up a meal, your high-end kitchen (with its designer appliances) will more than suffice. Automated lighting and music make your space perfect for entertaining, while your private terrace will allow you to take in the entire city in one spectacular glance.
Needless to say, these once-in-a-lifetime living spaces come with significant price tags (ranging from $4,288,000 for the lower penthouse to $7,288,000 for those on the top floor).
Interested in Calling 88 Scott Home?
Are the penthouses at 88 Scott calling your name? You're not alone—these dazzling living spaces are bound to attract attention. Don't miss out on your opportunity to secure one of these St. Lawrence Market gems.
Ready to find the right condo or penthouse? To get started, send me an email or call me at 416-476-8294 today.