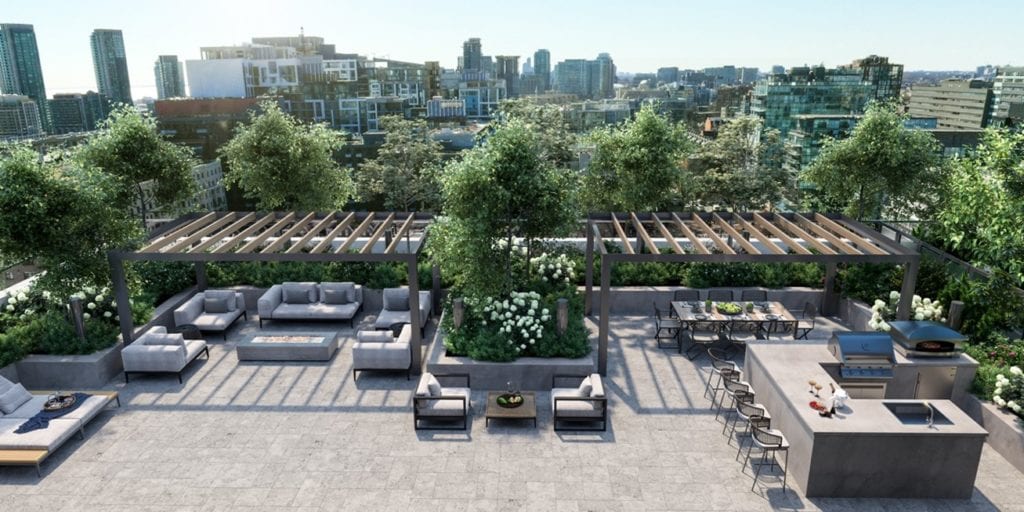 03.19.2021
The Well by Tridel: Peak Inside the GPH A $5.9M Penthouse Suite At Front/Spadina
Buying
I'm going to paint you a picture.
 Your workday is just about to finish and you feel grateful for the newfound level of joy and productivity you're able to achieve in your new space. The office building lends itself to brilliant amenities that give you much-needed breaks throughout the day, and you love working alongside other like-minded people who make up the modern-day workforce. Best of all, home is just a few steps away.
 You walk into the Wellington Promenade along beautiful laneways, hardscapes, and greenery, to greet the dazzling lobby of the condominium tower you now call home. But before you escape to your private residence upstairs, you walk along the connected, interior laneways to the lively marketplace that has quickly become your new favorite place. You shop for a select few ingredients for dinner, grab a frothy latte and make your way out.
 A few moments later, the smooth elevator ride takes you up to your penthouse suite. You unlock the door and take a deep breath, smiling with a mixed sentiment of appreciation and disbelief. Like the day before, you give yourself a little pinch just to make sure it's real.

And it is.
You have arrived.
Highly sought-after area
Will King West ever not be a sought-after neighborhood of Toronto? Brimming with reputable fashion retailers, vibrant daylight and nightlife entertainment, high-end lifestyle shops, specialty fitness studios, and all your day-to-day stops including boutique grocery stores, conveniences, and amenities, there isn't much King West is missing.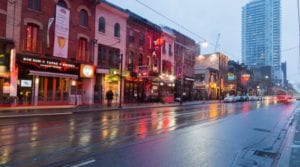 (https://tirbnb.com/king-west-village/) 
And ohhh…the energy. That chic, refined, down-to-earth, we-know-how-to-live type of energy that always makes you feel good about where you are. The dynamic square that is King West spans from Queen and Bathurst to Front and Spadina, with The Well in the heart of it all on Wellington Street West, between Spadina and Portland in the Wellington Promenade.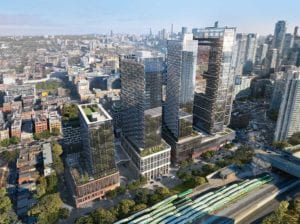 Living at The Well not only means you're at the height of downtown luxury, but it also means you're steps away from just about everything your heart desires in an elegant neighborhood that is 99% walkable, with a 100% transit score and 13 different transit routes servicing the area.
Features to die for 
They don't call it luxurious for anything.
"Our designers and architects stopped at nothing to achieve interior designs that truly give our suites that special 'WOW' factor. Our vision was to incorporate finishes that strike the perfect balance between affluence and comfort."
– – Anita Zaman Sales Manager at Tridel
Here's a quick teaser list of a few of the most spectacular features inside The Well Penthouse Suites.
Contemporary, chic designs

Soaring high ceilings

Wide-plank engineered hardwood

Natural stone countertops

Aesthetically pleasing pot lights and valence lighting

High-quality appliances

Large soaker tubs and glass showers

Gorgeous private terraces
Two penthouses, one vision 
From Tridel's 98 exclusive suites, I've selected two exquisite penthouses for my collection. While they are each unique both in layout and finishes, they share in The Well's distinct vision to provide only a privileged few with one of the most elite condominiums living experiences in the city. 
GPH 1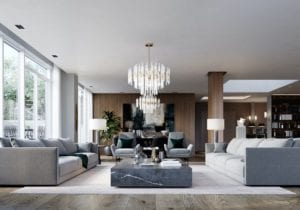 This suite is 3,259 square feet of contemporary beauty. 2+1 bedrooms (of which one is a magnificent master suite, featuring floor-to-ceiling windows) and 3.5 bathrooms, the GPH 1 at The Well leaves little to the imagination.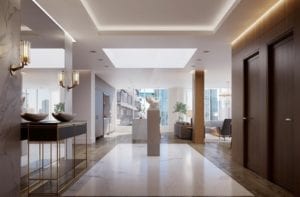 In the front foyer, you're greeted by a large skylight above, and a welcoming view of your kitchen, dining, and lounge area. Oozing with style, your new home boasts natural stone countertops, top-of-the-line appliances, and wide-plank engineered hardwood throughout.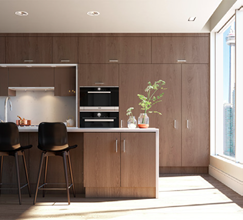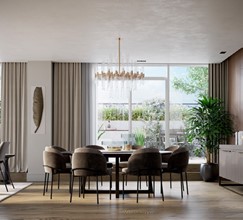 Turn left and you're guided further into your exclusive sanctuary where you can retreat to the coziness of your family room, the quiet of your study, the comfort of the second bedroom, or the serenity of your fully-appointed master suite.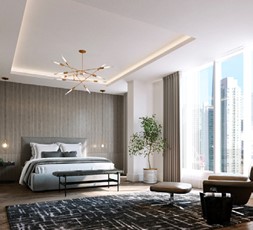 Turn right and you'll find your stunning, private, 1000+ square foot terrace. An entertainer's paradise, it features two pergolas, plenty of lounge and dining seating, and a stone kitchen. Atop one of the most effervescent areas of Toronto, you can take in the city air and relish in the view down below.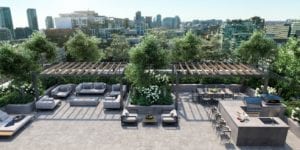 3F+SAT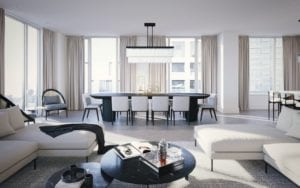 2,622 square feet of contemporary luxury, the 3F+SAT suite at The Well encompasses 3+1 bedrooms, 3.5 bathrooms, and a beautiful private terrace. What makes this suite particularly unique is its striking engineered hardwood herringbone-patterned floors, natural stone counters, and gold accents.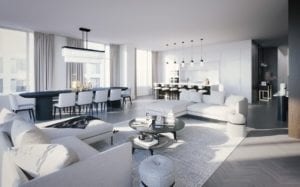 As you enter, just a slight turn of your head to the left brings a priceless view never to grow old: a modern kitchen, spacious dining and living areas, and a floor-to-ceiling view of the city skyline with direct access to your terrace.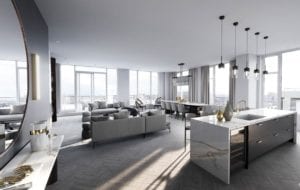 At the end of your day, follow the corridor behind you to find your bedroom, media room, study, and master suite with everything your mind, body, and soul desire to replenish and restore before the dawn of the next day.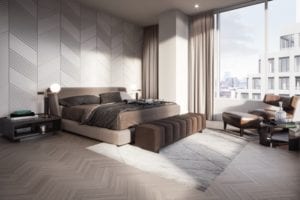 Entertain to your heart's content or enjoy the outdoors alone. Your private, 500+  square foot terrace sits at great heights atop the bustling city down below with ample space to dine and lounge.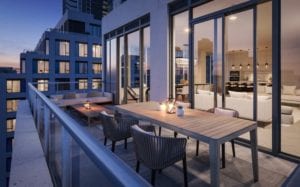 A deep dive into The Well development
Structured, thorough, and visionary, The Well development is much more than a few condominium towers. It is the first of its kind not only in Toronto but also in all of Canada. A 1.4-billion-dollar mixed-use and master-planned community, this is an ambitious project that everyone seems to have their eyes on. And rightfully so. Six buildings in total and representing the groundbreaking redevelopment of the renowned Globe and Mail offices, The Well will consist of a 36-story residential tower, a 36-story office tower, and five smaller mixed-use towers. In the midst of it all, there will be laneways and surrounding grounds that interconnect every part of this one-of-a-kind development, including residences, offices, shops, and restaurants.
As you might expect, the amenities will be no shortcoming.
For residents, there is a planned fitness center, entertainment lounge, outdoor fireplace area, pool, and a European-food-hall-inspired dedicated "Wellington Market" featuring boutique shops, pop-up events, and a wide range of services.
In The Well Office Tower, there will be more than 1,000,000 square feet of office space for rent, not to mention a list of amenities that will make you want The Well to be the dedicated place of work for you and your colleagues. Sky gardens, pristine showers, bike storage, and flexible infrastructure, to name a few, will most certainly make this modern work tower stand apart.
Partner developers and architects, Diamond, RioCan, and Allied have set out to transform the once-industrial district of King West. What has already begun is the construction of what is an innovative, multi-phased project which, upon its completion, will be a beautiful and convenient combination of residential, office, and retail spaces in a single location.
"The Well seeks to attract residents and business owners, compelling them to buy into the unmistakeably trendy, energetic vibe of King West."
– – Anita Zaman, Sales Manager at Tridel
Is this the ideal penthouse condo for me?
 It all comes down to how you want to live.
First, it's about the location, King West. You're the person who feeds off vibrance and energy, appreciates proximity, loves to walk, seeks an exciting life outside the home, and relishes in the look and feel of what can only be described as truly hip and trendy. King West is all of that and more.
Next, it's about the home, The Well. You adore condominium living, welcome the lavishness of exceptional design and stunningly luxurious living, enjoy when architectural history and characteristics are celebrated, and like the idea of being part of an amenity-rich, history-in-the-making development.
There are lots of luxury condos…why this one?
 While this is not the first nor the last luxury condominium development in Toronto, The Well's offerings are incomparable:
First-ever mixed-use, a multi-tower project of its kind in Canada
Intelligent condominium layouts, stunning finishes, and gorgeous living spaces
In the heart of one of downtown Toronto's most sought-after neighborhoods
The style, vibe, and energy for young professionals, urbanites, and families alike
Beautiful indoor and outdoor laneway access to some of the finest in Toronto shops, restaurants, personal services, and amenities
"The Well is a development designed not only to respect and support the chic and vibrant life of what King West already is, but also to offer a standard of modern luxury that has yet to be seen, and worth every penny."
– – Michael Emory, President and Chief Officer of Allied
Have I piqued your interest?
I'll walk you through the gorgeous suites.