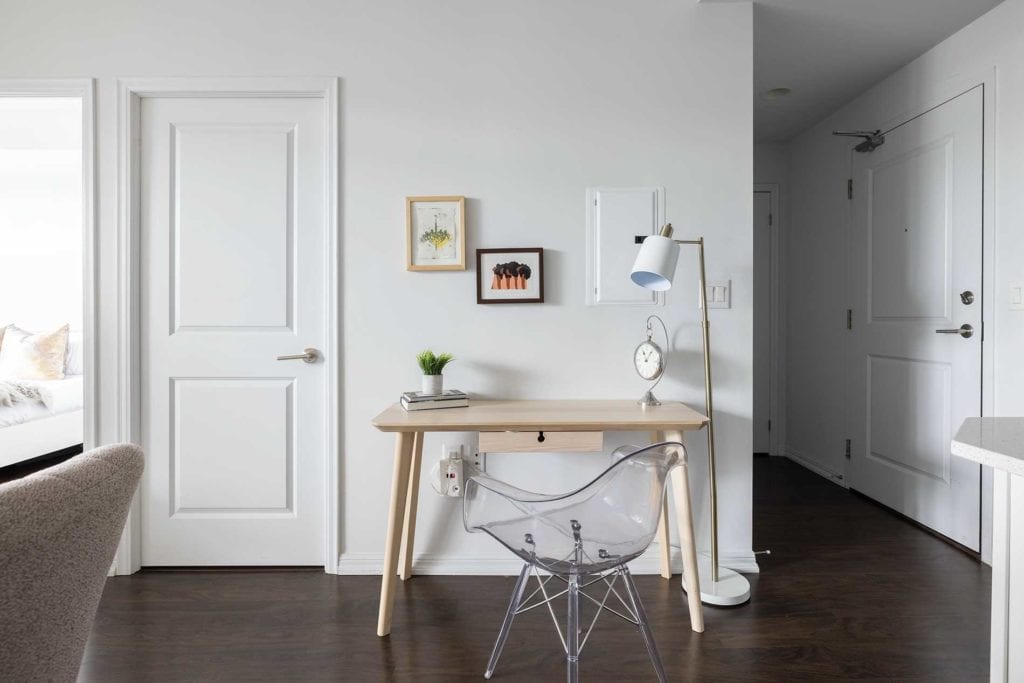 05.10.2021
Buy Your Ideal Condo in Toronto A Step-by-Step Guide
Buying
Condo living has a lot to offer.
Live up high, enjoy building amenities, be part of a community, and never worry about cutting the grass or shoveling mountains of snow again! And let's not overlook how attractive the affordability of a condo is. No wonder so many are flocking to this lifestyle in the heart of the city.
How do you buy a condo in Toronto?
What's the process?
What should you expect and be prepared for?
Can you educate yourself in order to ensure you're making smart, well-informed decisions?
This step-by-step guide is designed to answer all of these questions and so much more. By the time you're finished reading, you'll have all the information and tools you need to dive into Toronto's exciting condo market.
THE VERY FIRST THINGS YOU SHOULD DO
While you might think it makes perfect sense to start your condo buying process by finding a condo, there's actually a better way to go about it: figure out your finances so you have everything in order before the real property research begins.
 Step 1: Do a pulse check on your financial situation.
 You're likely getting ready to buy a condo because you've reached a point where you have some savings for a down payment. Take a look in your chequing accounts, savings accounts and investments. Whether it's just you, you're buying with a partner, you have enough savings in your RRSP or your family is gifting your down payment, confirm whether or not you think you've reached a point where you're financially confident enough to make a move.
 Step 2: Get all your paperwork together.
 In order to obtain a mortgage preapproval, your lender needs some paperwork from you. The first is a credit check, which your bank or broker usually takes care of on their end. If you're employed, ask your superior for an employment letter stating your start date, status, position title and salary. If you're self-employed, gather your T-4s (from the last 1-3 years). In both employment scenarios, you'll be required to show last year's Notice of Assessment (NOA) to prove your taxes are up to date. If you're behind on your tax filings, you won't be able to secure a mortgage.
Take note: self-employed people are usually asked for three years of NOAs, not to mention a whole host of additional paperwork, depending on the scenario. This is because self-employed individuals do not show personal income the same way employed people do.
 Step 3: Contact your bank or mortgage broker.
 Make the call. Reach out to your bank, explore other banks if necessary or make the decision to work with a mortgage broker. Whatever you decide, now is the time to connect. Discuss your property acquisition wants and needs. Let your banker or broker create a file for you in order to begin the preapproval process.
 Step 4: Ask about applicable government programs and rebates.
 You never know what your eligibility may be, and if there are programs and rebates you qualify for, you'll save a bundle! A few of the most common to be aware of in Toronto and Ontario include:
First-time home buyers can borrow up to $35,000 tax free from their RRSP – but know this: you must pay the full amount back into your RRSP within 15 years from the date of your withdrawal (or, claim it on your personal tax returns within the same time period).
First-Time Home Buyer Credit
This is a tax credit to help with your closing costs and comes in the form of a refund of up to $750.
First-Time Buyer Incentive
This applies to you if your condo is under $565,000.
You need this if the purchase price is under $1,000,000 and your down payment is less than 20%.
Land Transfer Tax Refunds
Amounts vary depending on location and property price. Don't miss it!
Step 5: Confirm the amount of your down payment.
 After connecting with your chosen financial expert, now it's time to solidify the maximum down payment you can support for your condo purchase. It's important to have this number so you don't unnecessarily put yourself through disappointment, looking for condos you really can't afford.
 Step 6: Have your deposit ready and accessible.
 When you make a condo purchase, you must pay a deposit. Usually 5% of the purchase price for condos in Toronto, your deposit must be submitted within 24 hours of your offer's acceptance. It's a good idea to have this money ready in advance. If you need to withdraw it from your RRSP or an online bank, this can take a few days so be sure to transfer it into a chequing (or similar) account that can be accessed quickly and easily when the time arises.
Step 7: Know exactly what you can afford. 
This is precisely what a mortgage preapproval tells you. For example, the maximum purchase price you can afford is $500,000, the required down payment is a minimum of $50,000 (10%), the maximum amortization is 30 years and the interest rate you're approved for is 2.4% (5-year fixed). These are the types of numbers that give you an excellent indication of what you should be searching for when you hit the pavement.
Step 8: Nail down your preferred neighborhoods.
Where do you want to live? It's one thing to say "in Toronto" but there are over 140 neighborhoods in our unique city! Which one best fits your personal profile? The more you can narrow this down, the better able you'll be to select the perfect real estate agent, and the easier your search will be in the long run.
Step 9: Be prepared for closing costs so there are no surprises. 
These are so easy to underestimate, or worse, overlook. Your bank or broker has preapproved you and you know exactly what you need in the form of a down payment but what about all the other costs you must be able to pay out of pocket on closing day? Educate yourself (and save up) in advance.
Land transfer tax
Legal fees
Lender fees (if applicable)
Appraisal fees (if applicable)
Adjustments (sometimes there will be reimbursements to the seller for prepaid items associated with the condo unit)
Carrying costs are something to consider as well. Can you afford to live in the condo you want to purchase? When you're budgeting, be sure to include the condo maintenance fees (which are subject to increases), the possibility of special assessments (unforeseen expenses to be paid by residents – yes, it does happen), and your own living expenses (such as home insurance, property taxes, internet, cable, utilities, groceries, and entertainment).
CHOOSE A GOOD (NO, GREAT!) REAL ESTATE AGENT
There's nothing quite like knowing you have the best possible expert in your corner as you embark on a journey to make one of the biggest purchases of your life. Before you speak with an agent, figure out what type of property you're interested in.
There are thousands of condominiums in the City of Toronto. They come in all heights and sizes, not to mention styles and neighborhoods. Consider low-rise, mid-rise, and high-rise. Are you interested in loft-style or townhomes? Hard loft or soft loft? How large do you want the building to be and what amenities are important to you?
That's just the structure itself.
Then there's your actual unit…your home. How much space do you need? 1 bedroom, 2, 3, or 4? How many bathrooms? Do you value a den space? Think of your interior design tastes. Uber modern, classic traditional, or somewhere in between? Do you need a parking space or a storage locker?
All of these factors play a role in your buying process, and more specifically in helping you hone in on the ideal real estate agent for you and your needs.
Step 10: Research top agents in your selected buying areas.
Here's where your chosen neighborhood comes in handy. In Toronto, oftentimes real estate agents will specialize in particular areas of the city. If your heart is set on one, look for the agent who's mastered that part of the grid.
Step 11: Talk to a few different agents.
Interviewing and vetting are important but don't overwhelm yourself unnecessarily either. Refer to your shortlist, and if you've done your due diligence so far, it'll be a good list to move forward with. Stick to 3 or 4 real estate agents you're confident about working with and have a candid conversation with them. You can tell a lot about a person and their business, even from a single call.
Ask about their experience
What are their neighborhood specialties?
What is their condo expertise (are they experts in a particular type of structure?)
Do they have knowledge of the current market and where it's headed?
What types of strategies do they use to find properties?
How do they negotiate on your behalf?
What's their value-add?
Step 12: Hire your preferred agent.
It isn't all numbers, statistics and experience. Remember to listen to your gut instinct, too. When you're ready, hire the person you feel is best for you and your needs.
PREPARE YOUR TEAM AHEAD OF TIME
When you have all your ducks in a row, things go a lot smoother. And in an already complex endeavor, this is a big deal.
Step 13: Contact your real estate lawyer.
Call your lawyer and tell them you're actively looking for a condo to purchase. This way, they're ready to move quickly on your file when the time comes.
Step 14: Call your bank or mortgage broker.
You have your preapproval but when you're close to making your purchase, be sure to reach out to your banker or broker to let them know. Mortgage fulfillments are often the slowest part of the process, and since you may only have 5 business days to waive a financing condition, it's in your best interests to give them a heads-up.
Step 15: Involve any friends or family you want on your side.
Planning to bring your parents to property viewings for some much-needed input? Value an extra set of eyes from a friend in the trades? Get your people ready so there's no wasted time when a property comes along that you're really interested in. (This is especially important in hot, competitive markets.)
FIND YOUR IDEAL PROPERTY
It might happen fast or it may take more time than you expected. Either way, enjoy the process. You're finding your future home!
Step 16: Do your own preliminary searches.
Don't just rely on your chosen real estate agent to find you the perfect condo while you sit back and do nothing. We live in a digital world and there are thousands of Toronto condo listings at your fingertips to view any time of day! Who says you can't find your own perfect place? If you do, your agent is there to help you research, dig up essential details on the unit, strategize and negotiate if you decide to put down an offer.
There's a second benefit to being a little proactive. By doing your own property searches and sending preferred listings to your agent, you give him or her an opportunity to learn what you like. This enables them to conduct more accurate property searches on your behalf moving forward.
Step 17: Start online.
The internet has so much to offer. In fact, there are many buyers who acquire properties remotely, without ever seeing them in person. Over the last decade, property pictures have risen in quality, not to mention the development of virtual tours and 360-degree panoramas which are now commonplace in real estate listings.
Browse any number of listing sites and begin to get a feel for what's on the market. The more educated you are and the more you hone in on what you're really looking for, the sooner you'll find your ideal condo.
Step 18: Research and dig before going to see a property in person.
A listing catches your eye online and you want to book an appointment to go see it. Not so fast. Call your real estate agent and ask them to do some digging on the property first. Key initial factors to address are the age of the building, what the amenities are, who the current owner is, why they're selling if there is flexibility on the price and any known issues with the unit or red flags that pop up.
Be sure that everything appears to be legitimate and that all your boxes are checked before you take time out of your day to see it in person.
Step 19: Make sure your agent is doing the heavy lifting.
A good real estate agent makes it their full-time job to search for best-fit properties on your behalf. Every listing they bring your way perfectly matches your buying criteria and they're already equipped with all the background details so they can effectively present the property to you. A good agent also has in-depth knowledge of the area and inventory at any given time so they can fuel your research with comparables and deep neighbourhood insights. Make sure they're keeping you apprised of market and pricing trends so you're aware of what you're buying into and how you can forecast the value of your investment in the months and years ahead.
Step 20: Ask for previews of listings before they hit the market.
Real estate agents often have access to brand new listings before they hit the public market. Tell them to send these your way when they believe it's a good fit so you can have first eyes on the property. This gives you a leg up – particularly in competitive markets.
Step 21: Do your due diligence.
Buying a condo is a big move so it shouldn't be handled lightly, but rather intelligently and thoroughly. Poke and prod to find all the pertinent information about a particular condo building and the unit you're interested in.
Neighborhood
Location, location, location! (Bet you've never heard that before.)
It really is critical. How's the street view? What's the overall vibe? What are the transportation options around the condo? Are you in close proximity to everything you need to live comfortably such as grocery stores, drug stores, parks, schools, restaurants and entertainment?
Building
What's the history of the building? How is the overall appearance – is it well maintained? Who is the developer and how good (or tarnished) is their reputation in the industry? This will give you an indication of the construction quality, which is important when it comes to appearance, maintenance needs, noise levels, and resale value. Here's where a great real estate agent is instrumental.
Ask about the condo's property management team. If you buy, these are the people you'll be dealing with on a daily basis so good management goes a long way when it comes to your quality of living.
Here's a factor that's a little less obvious: is the majority of the building owner-occupied or tenanted? It's been proved time and time again that the more owners who live in their units in a building, the better maintained the structure and the more it holds its value.
Unit
Honing in on the unit itself, how's the view? Who are the neighbors? Now's the time to turn on all your senses to get an accurate feel for the place. What do you see, hear and smell all around you?
OFFER TIME!
Naturally, there will always at least be a few nerves that bubble up, but in a slower, real estate market skewed in favor of buyers, this part of the condo-buying process is relatively easy. On the other hand, in piping-hot sellers' markets, this can be one of the most stressful parts of buying real estate. The following steps are here to equip you with the firepower you need to put your best foot forward – market cold or market hot.
Step 22: Strategize with your agent. 
What do you think your offer should be? How does your agent feel about your number? There may be a strategy involved in terms of holding out on your very best until you see how the seller responds to your first offer. Other times, it's best to come in with your highest offer right off the bat. Here's where a great estate agent shines, pooling their experience, insight, market knowledge, comparables and so much more to create a winning offer strategy with you.
Step 23: Know your conditions.
It's quite common to make your offer "conditional". This means a few conditions must be met in order for your offer to be 100% final. The most common are:
The offer is conditional on you solidifying a mortgage.
Status certificate review
The offer is conditional on you and your lawyer reviewing the condominium status certificate.
The offer is conditional on a satisfactory home inspection of the property (although this is not as common in condos). Condo inspections are often skipped since buyers know that if there are structural issues with a condo unit, property management is required to handle it.
Even though conditional offers are very common, in extremely competitive markets, it bodes well for buyers to eliminate as many as they can so that their offer stands strong in a potentially large crowd of bids.
Step 24: Put your offer down on paper.
Once you've established what your offer is, your agent will prepare it along with the associated terms and conditions you've discussed. Then you're required to sign it. From here your agent presents it to the seller's agent. The seller can then accept it as is (congratulations!), sign it back with new proposed terms such as a higher sale price or adjusted closing date so that it becomes a counter offer, or decline it, in which case the deal is over (sorry…better luck next time).
Step 25: Review the status certificate beforehand.
If you're serious about a condo, review the status certificate with your lawyer promptly before you submit your offer. This shows the seller you're serious.
Step 26: Submit your deposit cheque with your offer.
This is another way to put your best foot forward and show your level of seriousness and respect for the seller's time as you submit your offer. In a competitive market, this goes a long way.
Step 27: You can handle "bully offers".
There are methods you can use to handle bully offers if it comes to this. When that's the type of market you find yourself in, have no fear. There are ways around it, and a good agent knows them. Read all about handling bully offers here.
Step 28: Put your best foot forward in multiple offer situations.
Sometimes the right tactic is to make an offer strong enough to get past the first round, if your agent is confident there will be more than one. Other times, it may be beneficial simply to make your best offer right away. Knowing when to walk away is also a critical part of the process. Don't let multiple offers intimidate you, just work collaboratively with your agent so you know how to effectively play the game (which can vary from neighborhood to neighborhood and condo to condo).
CLOSE THAT DEAL
Before everything becomes official, there are a few last items to take care of.
Step 29: Satisfy and waive all conditions.
Once both you and the seller agree on the deal and make your sign-backs it's time for you to work quickly with your team to satisfy and waive all conditions. Once this is done, your deal becomes officially "final".
Step 30: Set up condo home insurance.
Call a few home insurance companies or obtain quotes online. Find out which companies are the most competitive, while also ensuring that you are adequately covered. Be sure this is set up to take effect on your closing date – it's the law!
Step 31: Sign all final paperwork with your lawyer.
In office or virtually (yes, virtual signings are now permitted in Toronto), you are required to sign all the necessary paperwork prior to or on the day of your closing. Your lawyer will explain and walk you through each document. Getting closer!
Step 32: Get a certified cheque or bank draft for the full amount due upon closing.
Prior to your closing date, your real estate lawyer will tell you the exact amount due in order to close the deal on your condo. This number will include the remainder of your down payment (less your deposit), land transfer tax, legal fees, and any lender fees or adjustments. You'll be required to supply your lawyer with a certified cheque or bank draft in the amount specified.
Step 33: Transfer of title.
On the day of closing, the title of the property will be officially transferred into your name. Then only one last thing remains…
GET YOUR KEYS
Congratulations! You're the new proud owner of a condo in Toronto. Time to kick back, relax and celebrate in your new pad. Enjoy!