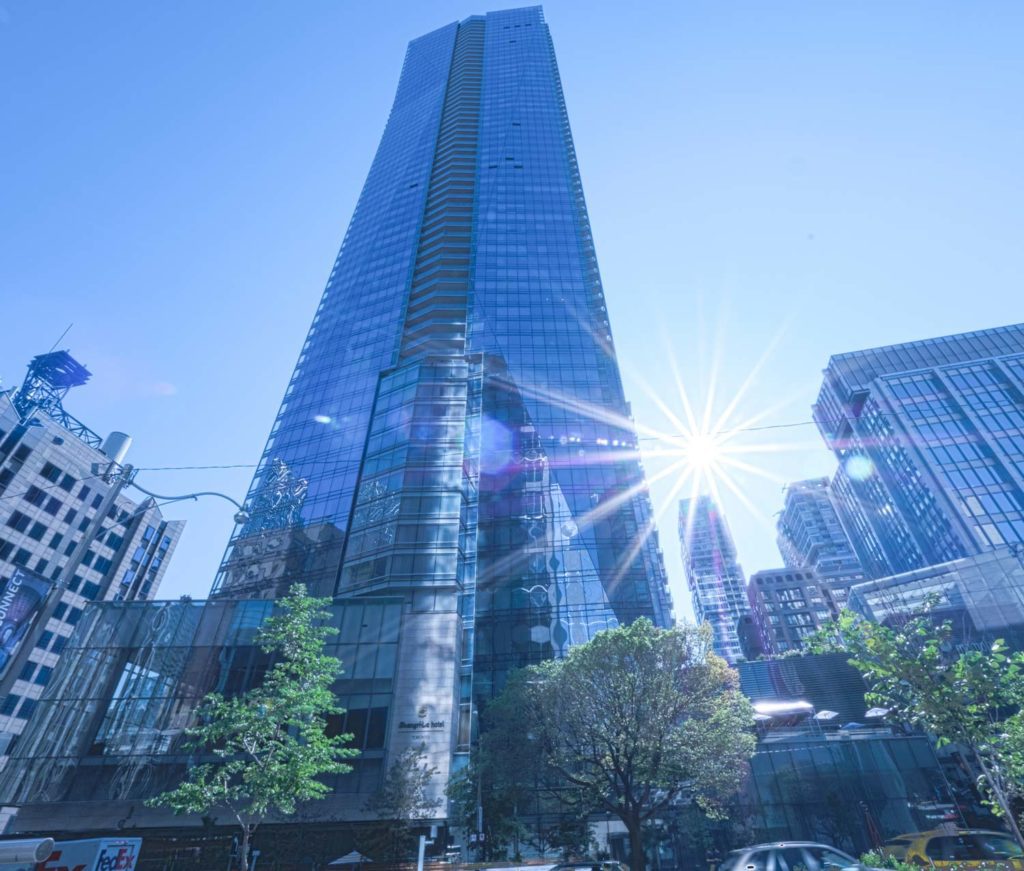 01.18.2022
The Top 5 Condo Buildings in Toronto
Condos
There's no shortage of incredible condos in Toronto, and choosing the right one can be a challenge. From stunning architecture and a convenient location to dynamic floor plans and beautiful finishes, there are many criteria to consider. Fortunately, some buildings in the city truly have it all.
While there are far too many impressive Toronto condo buildings to include them all in this list, the ones you'll learn about here are some of my favourites. When selecting my top five, I considered a wide range of factors—including those listed above. I also thought about amenities, overall feel, and whether a given development is home to a lot of unit owners (since they tend to take better care of and become more involved with their buildings than renters do).
With all of that in mind, here are five of my favourite condo developments in Toronto…
1) The Residences of 488 University
Looking for the very best of urban living? You'll find it at the Residences of 488 University, which is located in the heart of downtown on one of the city's most iconic thoroughfares. Of course, this gleaming, 55-storey glass tower (complete with a shimmering podium) has more going for it than an amazing location.
Boasting floor-to-ceiling windows, spacious terraces, and gorgeous colours and finishes, the suites that comprise 488 University are nothing short of stunning. Every floor plan is impeccably designed, with a range of sizes (from 544 square feet to 1620 square feet). When residents aren't luxuriating in their own serene living spaces, they're making use of the on-site amenities—which include a high-end gym, exercise room, pool, and outdoor garden, among others. 
---
Ready to purchase a suite in Toronto? Learn some of the basics by browsing a few of our condo-buying resources.
---
2) Pier 27 Phase I & II
Located at 29 and 39 Queens Quay, phase one and two of Pier 27 is a sight to behold. The development is made up of two pairs of glass buildings connected by a three-storey bridge. Its elegant facade adds plenty of visual interest to the scenic waterfront area that surrounds it.
One of the biggest draws of Pier 27 is the views it provides of the lake and urban skyline. On the inside, each suite is of penthouse quality—and intricately designed, down to the last detail. From its position on the waterfront to its ultra-modern architecture to its magnificent units, this project is fit for royalty. It also features stellar communal spaces, like award-winning pools with relaxed cabana seating. 
3) Toy Factory Lofts
At 43 Hanna Street, you'll find one of the city's best examples of converted industrial architecture. Lanterra Developments and Quadrangle Architects have taken the historic Irwin toy factory and turned it into a highly-coveted Liberty Village gem.
The 213 live-work loft spaces that make up Toy Factory Lofts sit directly above over 20,000 square feet of commercial space, giving them a distinctly urban feel. Big, bright, and filled with hard-loft details such as red brick and exposed beams and ductwork, units run anywhere from 655 to 3,082 square feet. Those who call them home also enjoy a 24-hour concierge, a rooftop terrace with a hot tub, indoor and outdoor courtyards, a fitness centre, and more.
Toy Factory Lofts received the Greater Toronto Homebuilders' Association's Project of the Year Award (along with several other distinctions). In other words, the project's reputation is well deserved.
Interested in learning more about buying? You can find out more about my services here. To see what's currently on the market, check out my featured listings here.
4) The Ninety
If you're thinking of purchasing a condo in Leslieville, be sure to consider The Ninety at 90 Broadview Avenue. In a former life, this sophisticated building was a Coca Cola bottling plant. Now, its unique shape, large columns, and partial red-brick facade give it plenty of historic character, while its open-concept suites feel ultra-contemporary. 
Suites at The Ninety are known for their ten-foot-high ceilings, engineered wood flooring, and porcelain tile, among other features. The building also provides access to a large courtyard with beautiful trees and seating areas.
This east-end favourite is appreciated not only for its architecture and beautiful living spaces but also for its prime location. The intersection of Queen and Broadview has undergone a renaissance of late, and it's now home to a growing number of exciting new local businesses.   
5) Shangri La Toronto
The term "Shangri La" means paradise, and that's just how this building at 180 University Avenue feels to its residents. If you consider making this shimmering, 66-storey tower home, you have no shortage of options. From one-bedroom suites to three-bedroom penthouses, you'll find what you're looking for here (it's also the site of a number of luxury hotel rooms).
Shangri La's architecture seamlessly blends the past with the present, combining a Georgian rowhouse that's nearly two centuries old with sky-high glass. An eye-catching, stainless-steel sculpture stands outside.  
If you see world-class amenities as part of the appeal of condo living, you're in luck. Shangri La is home to a beatutiful pool, spa, and fitness centre, along with housekeeping, room service, and concierge services. Surprisingly, the building's maintenance fees are lower than average for Toronto. If you're looking for luxury, you'll find great value here!
Are you ready to start your condo search? Reach out to me to learn more about the buying process—and how I can help you find your next home!